What it is that has brought 1000's of folks just like you to shop with us, wrapped in a nutshell, is our VALUE PROPOSITION…we offer the best bang for the buck SUP products, designed, tested, and manufactured by the most fully committed and experienced standup paddlers on the planet…we have been pioneers of the sport from the beginning of the modern rebirth…our knowledgeable and stoked staff, with over 200 years of combined surfing and watersports experience, is eager to help you…all backed up with our legendary customer service…quite simply, the QUALITY…PERFORMANCE…& VALUE doesn't get any better!
We want every client to be STOKED FOR LIFE ®…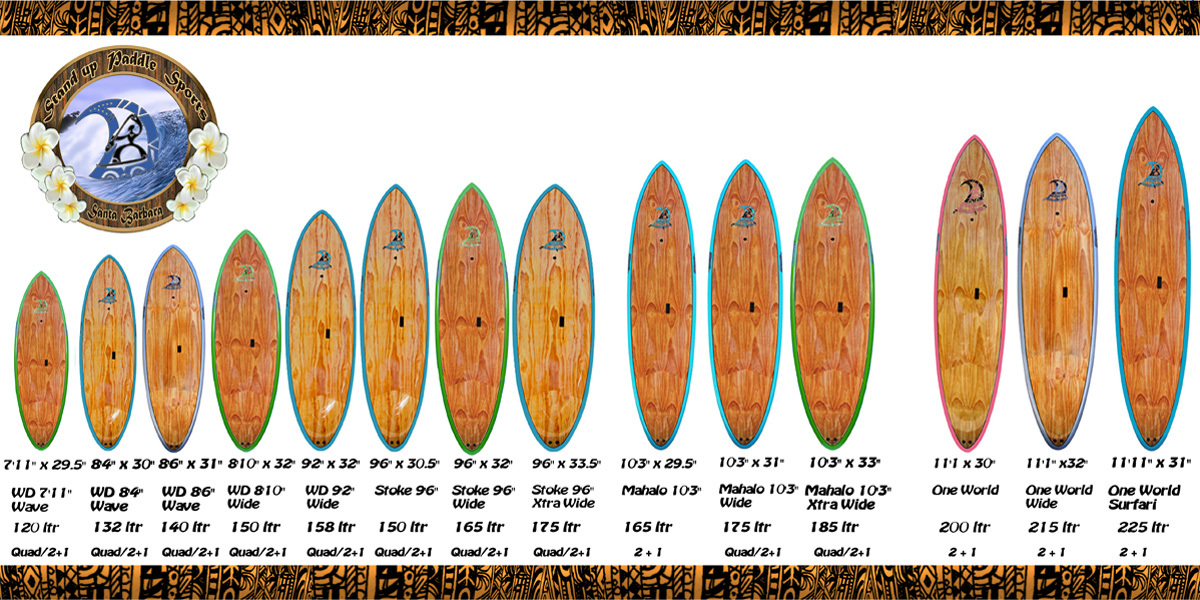 All 14 of our refined SUP board models, shown above with gorgeous Australian Pine wood veneers, plus our 6 new (and counting…;-) production Hammer models, are meticulously developed, designed, and tested by us in Santa Barbara before going into final production. They are also available in our acid washed SUPerLite carbon construction in strikingly beautiful brushed carbon finish…most are factory direct priced at $1799 or, pick up our gorgeous Australian Pine veneer versions at ONLY $1299!!!
Included are our world class custom bamboo fins, high quality pad, and big wave rated leash with patented safety quick release!!!
All of our boards have double leash plugs and automatic GoreTex air valves…
Our lightweight, strong, and gorgeous high performance carbon boards are value priced $1000 below comparable constructed carbon SUP's on the market made by the big multi-national windboarding corporations that helped kill the sport of windsurfing by making it so expensive!
YIKES! They are asking an unbelievable retail price pushing $3000, which is obviously bloated by huge advertising and marketing budgets…overpaid athletes…supply chain expense…martinis, sushi, and other miscellaneous overhead…etc…;-)
DO THE MATH!…that's twice the price of our beautiful Australian Pine veneer boards!!!
Heck, $1000 is a ticket to Fiji…$1K is no small chunk of change…who among us couldn't find something good to do with an extra grandski…let us help you save it…or, donate it to a worthy cause…we know that you'll sleep better at night without that buyer's remorse of overpaying…;-)
You also don't need to spend over $300 for a high quality SUP paddle…our all carbon SUP paddles with gorgeous Bass wood or bamboo veneers are only $269
We'll put them up against ANY paddle on the market!
Don't pay more until you check out our SUPerlite carbon and gorgeous wood veneer SUP's…the proof is in the pudding…we know that you will be Stoked For Life ®…
Pricing is easy…here's how it works:
The gorgeous boutique quality production boards with Australian Pine decks are $1299…
The boards with Australian Pine decks and bottoms are $1399…
Our acid washed SUPer-Lite carbons are $1799…
The only exception is the 11'11" One World Surfari which is $50 more than base price in Australian pine and $100 more than base price in carbon…includes Custom bamboo fin(s)…non-H20 absorbing pad…and, big wave rated leash with safety quick connect…plus, shwag…and, a heapin' helpin' of pure old school STOKE!
SHOP OUR SUP STORE…
We also offer all 20+ of our board models in custom carbon, or epoxy, versions…designed to your specification and perfectly reproduced utilizing the latest CAD and CNC board shaping technology…made locally here in California where we have been pioneering the sport of standup paddling from the beginning of it's modern rebirth…
YOU DREAM IT…WE BUILD IT…
An obvious thing that really sets us apart, is that we also offer custom SUP shapes made here in California, both in carbon or epoxy, to your specifications by master glassers…give us a call or email, we are here to help you perfectly tweak it to your individual dream specifications…
Shown above are our California built carbon 8'10" WD…8'11" Hammer…& 9'2″ Stoke models…

Our California based custom carbon production…

Our carbon production board finish colors…
We've been so slammed with custom Hammer orders that we have had to initiate a run of production carbon Hammers to help satisfy demand of these carbon sup boards…not bad problemos to have…;-)
These are all in full SUPerlite carbon construction…Maui Blue…Seafoam…and, Green Apple…with, brushed white decks and dual pin lines…should have them in before Christmas…they will go fast, as a number of them have already been secured with a deposit…

A few of the custom Hammer models that we have built…all made in the USA…
Click below for gallery showcase highlighting the 8'10" and 9'2″ WD's with our latest ultra-premium Made in the USA custom carbon standup paddle board creations…
NEW! Our latest ultra-premium Made in the USA carbon standup paddle board creations…8'10" and 9'2″ models at 16#-17#…

Our showroom always has racks and racks of high quality boards to choose from…
Click SERIES links below to find more specific board model info…
WD SERIES™ :: STOKE SERIES™ :: MAHALO SERIES™ :: ONE WORLD SERIES™
:: HAMMER SERIES™ CUSTOMS :: HAMMER SERIES™ PRODUCTION BOARDS
SUP SPORTS MAKES THE BEST SUP ACCESSORIES ON THE PLANET…check out our amazing SUP paddles, fins, and bags…
If you've been putting off getting a standup paddle board (SUP) because there is no dedicated brick & mortar SUP store near you…or, you don't feel comfortable buying a SUP from a big box store who piles up boxes of diapers next to them and there is nobody there that has any experience…or, your spider senses start to tingle when that dude selling a no-name SUP for cheap on KraigsList wants to meet you in a dark alley…(here a cheap…there a cheap…everywhere a cheap cheap…;-) then, please give us a call…we'll get a quality SUP package that was designed, tested, and built by us heading out to you in no time…we have been in the SUP board and shipping business longer than anyone in North America…you can also look for SUP Sports® products at select shops on the East Coast and Canada
We also have the freshest SUP board inventory in the business…so, please don't settle for some relic in the back corner of a kayak, or wannabe surf shop, that's collecting dust…a simple phone call or email to us is all that it takes to get you going…WE'RE HERE TO HELP!