OUR SNAZZY NEW SUP SPORTS® WEBSITE IS NOW LIVE! (click)
UPDATED:9/19/2015 : CLICK ON LINK ABOVE FOR UPDATED INFO ON OUR 2015 SUP BOARDS…
Here's a few new Made in USA SUP arrivals…
Click on :: SERIES :: links below for more detail on each of our SUP board models…
WD SERIES™ :: STOKE SERIES™ :: MAHALO SERIES™ :: ONE WORLD SERIES™
:: CALIFORNIA BUILT CUSTOM SERIES :: HAMMER SERIES™ BOARDS :: JAMMER SERIES™ :: MALLET SERIES™
:: MORE DETAILED BOARD INFO
WARDOG ® piloting a custom California built 9'2″ x 31″ Stoke into some sweet sections deep in Central America…
Designed and developed in Santa Barbara, California on the West Coast of North America in 2010…the 9'6″ Stoke (quad + 1) :: 9'6″ X 30.5″ X 4.5″ ~ 150 liters, is a refined wave rider with great glide and stability. We've ridden just about all of the mid-9′ SUP's on the planet and the Stoke ALWAYS comes out on top…the ultimate definition of a bread & butter SUP…also available in a 32″ wide version called the "Stoke Wide", with ~ 165 liters of volume…our #1 selling board for bigger guys who know how to surf…and, also now available in a new 33.5″ wide Stoke X-Wide model :: 9'6″ x 33.5″ x 4.6″ ~ 175 liters…
Production carbon 9'6″ Stoke in our Seafoam two tone brushed finish…
Pricing is easy…here's how it works:
The gorgeous boutique quality production boards with Australian Pine decks are $1299…
The boards with Australian Pine decks and bottoms are $1399…
Our acid washed SUPer-Lite carbons are $1799…
Includes Custom bamboo fin(s)…non-H20 absorbing pad…and, big wave rated leash with safety quick connect…plus, shwag…and, a heapin' helpin' of pure old school STOKE!
SHOP OUR SUP STORE…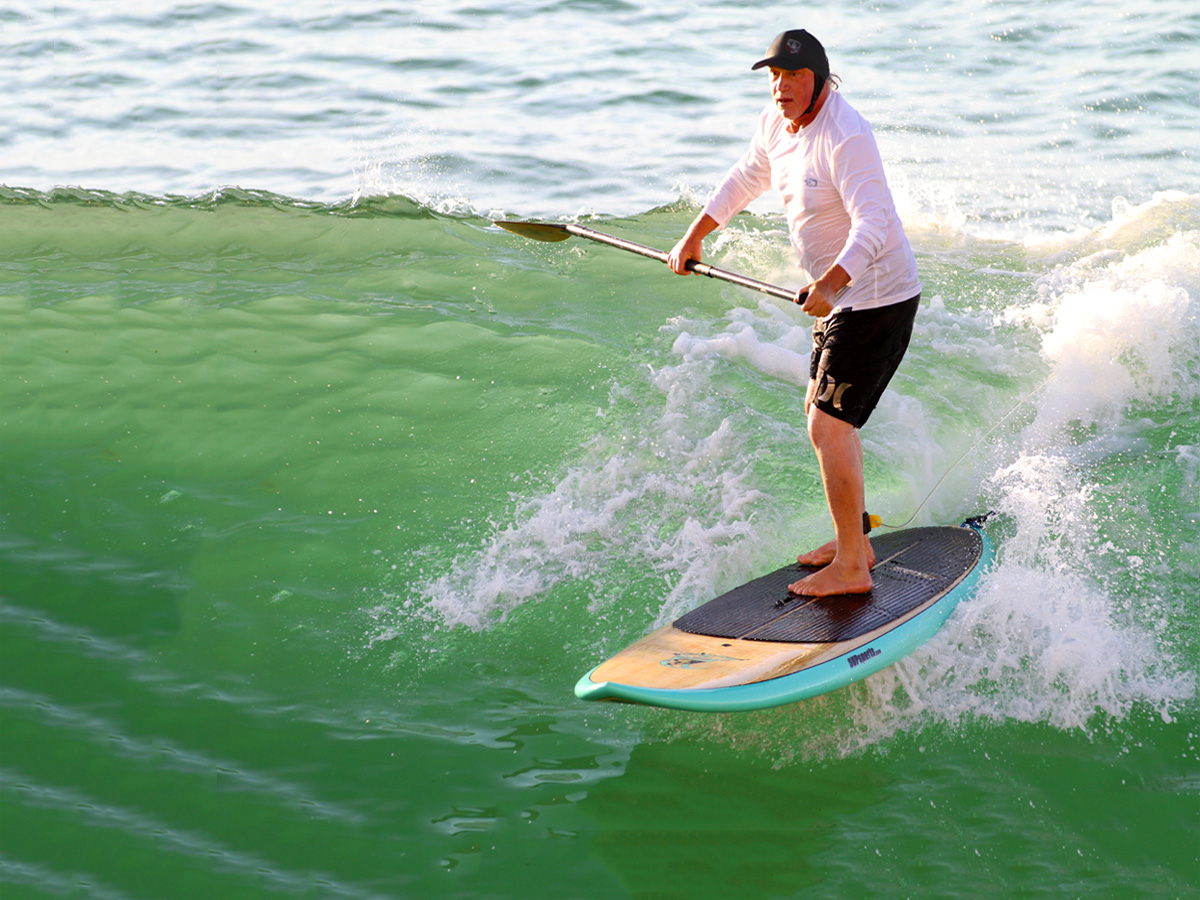 WD getting the 9'2″ carbon hybrid Stoke slotted…
WARDOG ® piloting the stock production 9'6″ x 30.5″ Stoke into a hollow beach break section south of the border…also, a solid projection off of a bottom turn into a layback cutback…the Stoke gets the job done!
NEW! Two tone carbon color finish options on our WD…Stoke…Mahalo…& One World production models…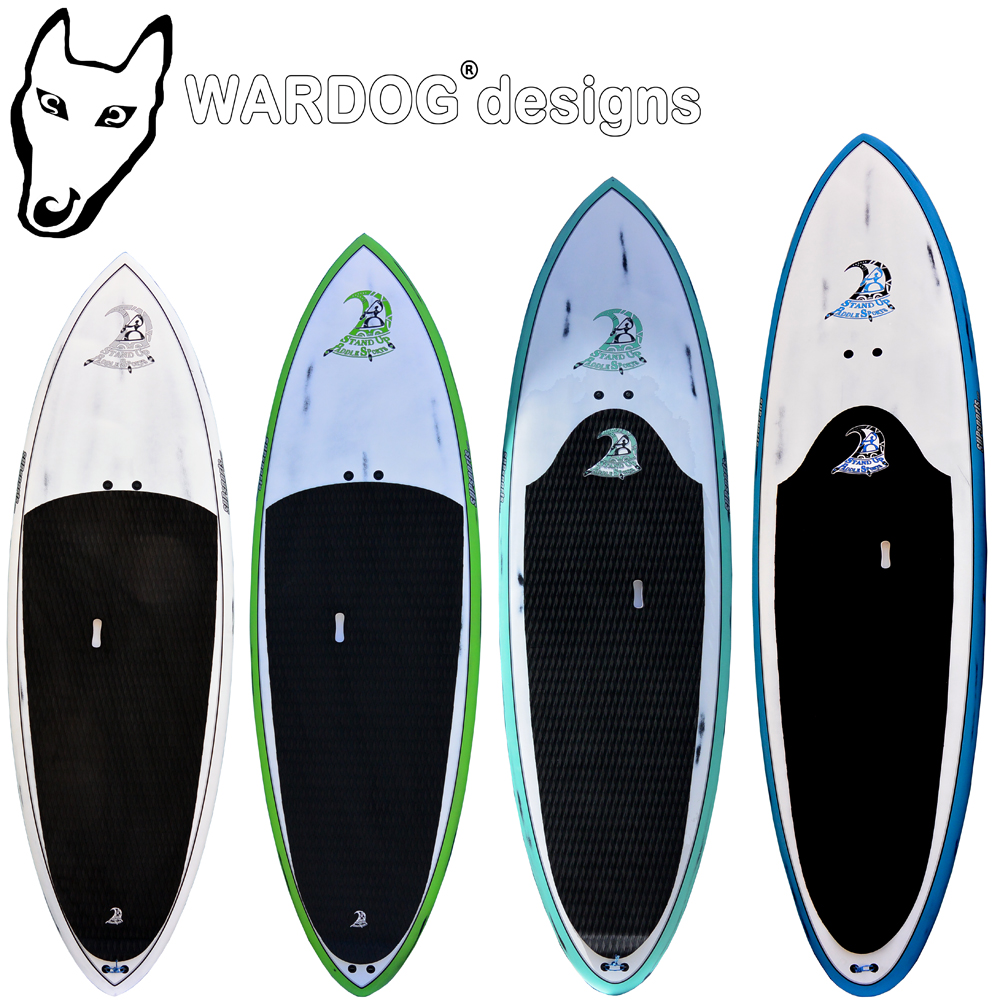 8/9/14
Subject: STOKE WIDE 9'6″ Carbon Two-Tone Lime Green – Testimonial
To Wardog and the rest of the Crew at SUPsports
Received my "Stoke Wide" 9'6″ X 32″ Carbon Two-Tone Lime Green (Photo
Attached) this week, in perfect condition.
Took it out to the Bay right away to get a feel for the float etc…; BUT,
Immediately I knew it was for me, so took it to the ocean for a test run.
By far The Best Board I have ever ridden. Started out with a Thruster
Set-Up since that's what I'm used to, but waiting on the Quad Fin Set-Up
which should arrive soon.
You guys provide excellent service and recommendations. Warren, you could
not have picked a better board for me. If you remember, I was contemplating
the 9'2″, but I'm glad I stuck with the 9'6″, it is a perfect float for my
height and weight (6′ – 210LB).
Board is also aesthetically beautiful.
Nicest looking SUP on the Beach.
Thanks for all the extras as well; Great T-Shirts and Cap. I have already
started hyping up your products and handing out the Flyers you sent. East
End Long Island needs more of these boards out here.
Thanks Again,
61 Years Old and Still Stoked!
Pete Hoepfner (East Hampton/Montauk, New York)
"12/26/12
Subject: 9'6" carbon Stoke
Wooo Hoooo! I just got my new Stoke….and the fins, and am pumped!
Everything looks really good.
Thanks a thousand times for the package and especially for the goodies.
I had my first really good waves yesterday on the Stoke….it was awesome 3 feet overhead and long walls…needless to say, it was a very good session and I cannot wait until the next.
Thanks again! I am STOKED!
Jay Sennewald (Newport, OR)"
Click image below for a GALLERY of Romeo ripping on the Stoke Series 9'6″ x 32″ Wide on a recent Spring day…
The quad + 1 fin box setup allows the rider to dial into whatever the conditions throw out…steeper beach break or smaller waves where a faster board is the call, try running the quad setup…in bigger surf where more drive is needed…or longer paddles, run it as a trifin…
The Stoke is also popular with our wahine flatwater paddling clients who want a smaller board that is stable…glides well…and, is not too big…off-water mobility is a piece of cake…
Margaux is stoked with her 9'6″ Stoke…everyone in Washington, DC should get their STOKE
on!…;-)
We also manufacture the Stoke in a custom FeatherLite carbon finish made in the USA…~ 4# lighter…dims can be scaled exactly to your specifications…this is a carbon 9'2″ Stoke for Paul…
There is nothing that we would change on the Stoke…an all time classic…very progressive shape for ripping 2′-12′ surf…phenomenal stability and glide for an under 10′ SUP…our most traveled with airline friendly board…
WARDOG ® piloting a custom California built 9'2″ x 31″ Stoke into a fast and steep section deep in Central America…
Very fast rocker lines allow you to generate speed, and with more speed you can pull off moves that you never thought possible on a SUP…ride it quad fin on smaller days, kelpy days, beachbreak days, and trifin when you feel you need more drive…great directional stability and tracking when paddled as a single fin in flatwater…
Constructions: Australian Pine Wood Sandwich, Carbon Wood Sandwich, Custom Carbon Made in USA.
Check out our Ultra-Premium carbon, high performance carbon standup paddle boards…Cooperfish style…
Artisan glassing quality made locally in the 805…California, USA…
These are Stokes…8'10" x 32″ @ 15.7#…9'2″ x 32″ @ 17.1#…light, tight, strong & bright!!!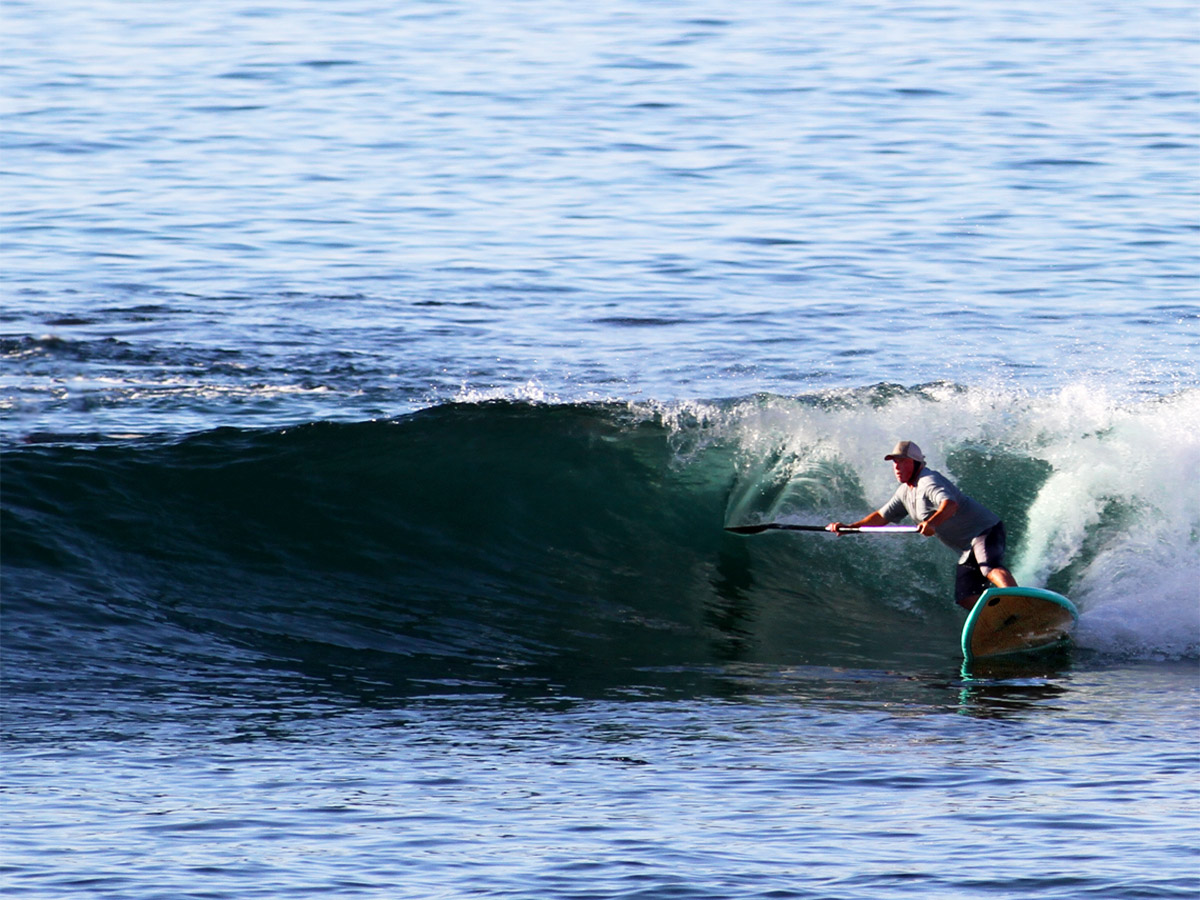 All three widths of the Stoke series…30.5″…32″…33.5'…
Our new Stoke X-Wide…9'6″ x 33.5″…in Lime Green Australian Pine and acid washed SUPerLite carbon…
Here's our friend, Bill B on the 9'6″ x 30.5″ Stoke…
Click image below for a full gallery of the STOKE Series SUP's…
A couple of our Ventura clients, who have had us build them custom carbon 9'6″ Stokes, are having lots of fun on them down in Costa Rica…Bill just sent us this postcard…
Here's Bill B
Warren,
The Stoke was great and worked superbly. We had big days the last 2 days when sets were 2-3 overhead. Only once did I feel that I should have had a thruster instead of the 4.5/4.0 quad set-up. Wish we had some pics of the bigger days, but everyone out surfing. Sets estimated at 2-3 overhead. We were estimating 400 yard rides. Tough in 90 degree air and 85 degree water as you would get very warm–but someone had to do it…
That is Bill F in the background in the second picture. He is riding his Stoke wide.
Thanks for all of your help.
~Bill B
They both are also riding our acid washed production carbon versions…
We've had some great CUSTOMER TESTIMONIALS from them and lots of other folks regarding the Stoke design…
Click image below for an overview of our beautifully refined boutique wood SUP board line…by far, best bang for the buck SUP on the market…