OUR SNAZZY NEW SUP SPORTS® WEBSITE IS NOW LIVE! (click)
UPDATED:9/19/2015 : CLICK ON LINK ABOVE FOR UPDATED INFO ON OUR 2015 SUP BOARDS…
Here's a few new Made in USA SUP arrivals…
Click on :: SERIES :: links below for more detail on each of our SUP board models…
WD SERIES™ :: STOKE SERIES™ :: MAHALO SERIES™ :: ONE WORLD SERIES™
:: CALIFORNIA BUILT CUSTOM SERIES :: HAMMER SERIES™ BOARDS :: JAMMER SERIES™ :: MALLET SERIES™
:: MORE DETAILED BOARD INFO
The SUPsports ® ONE WORLD SERIES SUP's were designed and developed in the standup paddling mecca of Santa Barbara, California on the West Coast of North America…the name says it all…one board that ANYONE can ride ANYWHERE in the world…the ONE WORLD is the truest execution of an "all waters" SUP on this water planet…arguably, the best all around SUP on the market…ONE BOARD…ONE PADDLE…ONE WORLD…
Jan loves paddling with her dog, Kona, on the One World in Colorado…
The 11'11" One World Surfari crossing the 26 mile wide Santa Barbara Channel…great for touring and down wind runs on a lake…or, in the deep blue water ocean…
A surfing glider or a gliding surfer…you choose…maximum versatility…functional minimalism…ONE BOARD…ONE WORLD…
At a mysto slab down the coast from Mavericks…local waterman, Bennett Williams paddles the 11'1″ One World into XXL waves…great board for zero waves to hero waves…;-)
NEW! Two tone carbon color finish options on our WD…Stoke…Mahalo…& One World production models…ONLY $1799…over $1000 less than the competition!
Includes non-H20 absorbing pad, dual GoreTex automatic vent valves, custom bamboo CoreFlex fins…& highest quality big wave rated leash on the planet with safety quick release!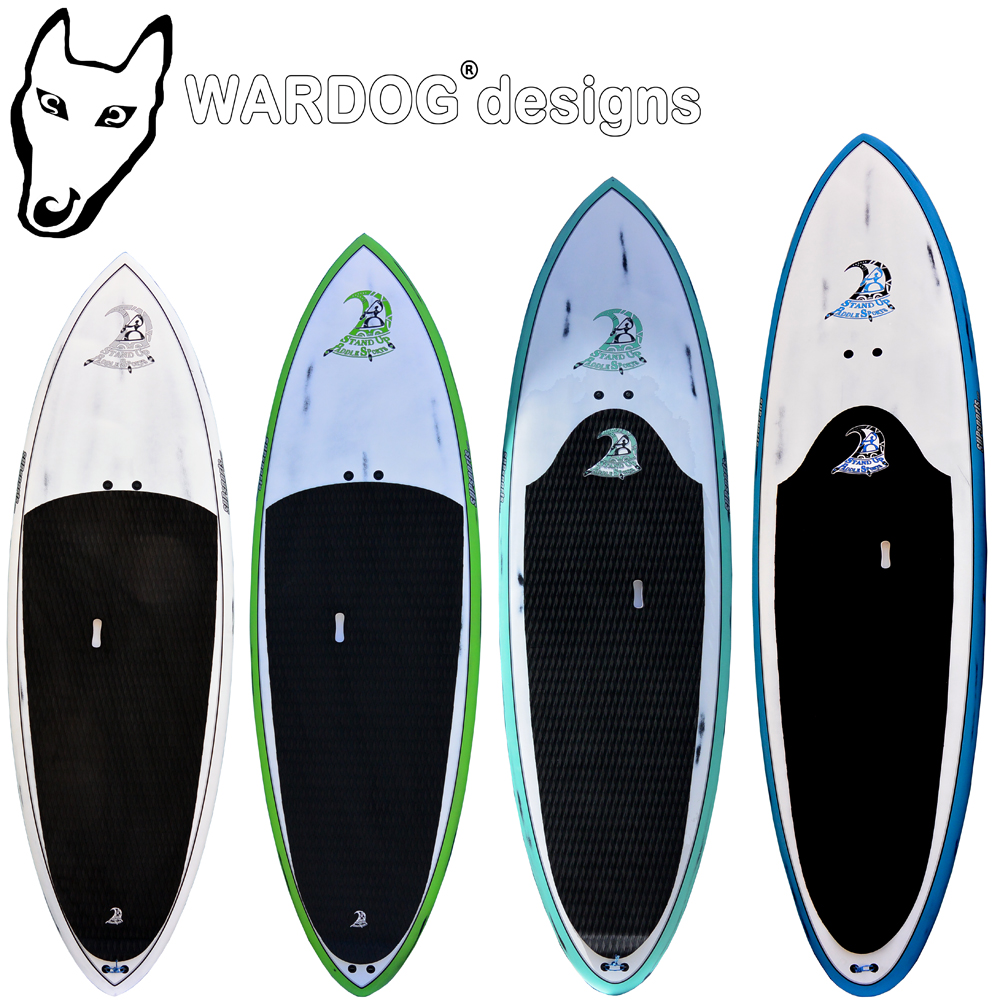 3/16/13
Subject: One World 11'1″
Hi Paige and Warren,
My One World got to Miami in perfect shape. Great packing job.
It took a week for the wind to finally come down (actually its been months ) so this morning it was time to launch the board for the first time.
By the way did I say how beautiful the double sided Australian Pine is , well it is!
The board is a pleasure to carry , I weighed it when I got it and its 27 lbs , 4 pounds lighter than my old 12′ Naish Glide . The One World paddles as fast as my Starboard 12'6″ x 31″ and the Glide. I am not a fast paddler . This morning I averaged 3.5 mph on my 3.38 mile paddle per my Garmin GPS.
The board does have incredible glide for an 11'1″ board . Better than all of my other boards .
It is also very stable which makes it easy to take pictures from . I only used the WD 9.25 Free Weed instead of the thruster setup and the board paddles quite straight .
I am very happy with then board and thanks for all the extras . Thanks to the Stand Up Paddle Sports crew , this is my fourth board that I have bought from you and it has always been a pleasure .
Rod Perry (Miami, FL)
The 11'1″ & 11'11" One World Series (2 + 1) :: 11'1″ X 30″ X 4.5″ ~ 200 liters :: 11'1″ X 32″ X 4.5″ ~ 215 liters :: 11'11" X 31″ X 4.5″ ~ 225 liters are very refined all around SUP's that excel as both wave riders with great glide (fast rockers) and stability…as well as flat water paddlers…
GPS testing shows that our "One World" is faster than some company's canoe nose 12'6″ models…;-)
As the group think racer heads chase their tails for fractionally faster times at the cost of stability (fun) and expense, our One World design continues to attract new adherents…
We just finished a full carbon custom 11'11" x 33.25″ x 5″ @ 246 liter jumbo One World Surfari for Bruce and his dog in Colorado…a light and strong 23#…shown here next to our stock carbon 11'11" x 31″ One World Surfari @ 225 liters…
Here's a wedding day One World carbon custom that we built for Kelli…can you guess where and when she got married?…;-)
Pricing is easy…here's how it works:
The gorgeous boutique quality production boards with Australian Pine decks are $1299…
The boards with Australian Pine decks and bottoms are $1399…
Our acid washed SUPer-Lite carbons are $1799…
The only exception is the 11'11" One World Surfari which is $50 more than base price in Australian pine and $100 more than base price in carbon and $50 more in pine…includes Custom bamboo fin(s)…non-H20 absorbing pad…and, big wave rated leash with safety quick connect…plus, shwag…and, a heapin' helpin' of pure old school STOKE!
SHOP OUR SUP STORE…
Arturo dropping into a nice Mondos wave on his 11'1″ One World…
The One World is a very refined soulful, longboard style wave rider…quite adept at catching the slightest swell bump on a lake…but, also capable of surfing massive walls of moving water…and, has greater glide and stability than a number of 12'6″ canoe nose SUP's on the market…the reduced swing weight in the nose allows the One World to be more maneuverable and surf smaller than it's size…it also reduces unnecessary surface area to catch wind and chop…the bottom contours are hydrodynamically efficient…
The two +1 fin box setup allows the rider to dial into waves or all water cruising/touring…the One World also possesses phenomenal glide for it's size, it is being used as a flatwater cruiser all over the planet…the pulled in nose reduces exposed surface area to chop and wind…also, makes it easier to punch out through the waves…should you find them on your venture up or down the coast…also available in a 32″ wide version called the "One World Wide", with ~ 215 liters of volume…and, our new 11'11″ x 31″ One World Surfari model at 225 liters…
Subject: One World Surfari
Date: 12/31/2012
Wardog & Paige,
Just wanted to wish you both a Happy New Year…and, tell you I am in love with my Surfari…..its been good down here…haven't smiled so much in the water in years…
Steve Sayre (Seal Beach, CA)
Constructions: Wood Sandwich, Carbon Wood Sandwich, Custom Carbon Made in USA.
I know that we said it before…but, we need to emphasize that the One Worlds have PHENOMENAL GLIDE for their size…
GPS tested against popular canoe nose 12'6″ models on the market, this board tracks better and is faster…let alone much more comfortable to stand on…and, it catches waves and swells with a minimum of effort…it is also used as a big wave gun as well as a flatwater cruiser…the pulled in nose reduces exposed surface area to chop and wind…very popular with our touring clients who want a mid-sized board for longer distance paddling, that is stable…glides well…and, is still maneuverable on and off the water…
Don't get all caught up in the canoe nose race scene if you are not racing…the fastest guys on the planet are barely 6.5 mph in flatwater…standup paddling is not a fast sport…so, you may as well relax and enjoy the cruise…;-)
The One World models are also great for those that want more stability while paddling with their children or dogs…all waters cruising/touring…and, surfing…the perfect board for your venture along the coast…ANY coast…ANYWHERE you find water to paddle on the planet…ONE BOARD…ONE WORLD…
Deb cruisin' down the coast on the carbon version 11'11" One World Surfari…our Australian Pine One Worlds can still be easily carried by wahines…
Bennett Williams again piloting the 11'1″ One World into bigger waves than you are EVER likely to encounter…;-)
The 11′ "all around SUP" on sale at KostMart, next to a mountain of paper towels and disposable diapers, can't do that!…;-)
Footnote: Our 11'1″ One World was the only SUP to survive this slab mission…
The waves certainly don't have to be gigantic…or, even exist, to have heaps of fun on the One World…the best designed all around…all waters SUP on this planet!
Paul easily connects with a small swell on the One World…
Shelby paddles with his dog Millie in Idaho on the 11'1″ x 30″ One World…
Scott came up from Thousand Oaks for an 11'1″ x 32″ Lime Green One World Wide…he's 6'7″…
Click image below for a full gallery of the ONE WORLD Series SUP's…
Click image below for an overview of our beautifully refined boutique wood SUP board line…by far, best bang for the buck SUP on the market…