A couple of custom carbon 9'6″ Stokes going through production for Trent on the Central California coast and Mike from the Central Oregon coast…
World class shapes for real world paddle surfers…
Here's Mike's finished up…
Wardog,
Picked up the board today in Portland, then went home and set it up. Board weighs out at 18 lbs without fins or pad, and 20.5 lbs with those items.
It looks insane and am looking forward to getting it in the surf. Thanks for helping me get set up with this SUP by letting me try your boards down in SB.
Hasta luego, MJ (Newport, OR)…
Our carbon glassing expert has over 30 years of carbon and epoxy experience…we paint the carbons with a special white UV inhibiting paint to keep the heat down…then sand some of it off for a brushed carbon look…
Gary's 10'3″ Mahalo coming out of the vacuum bag…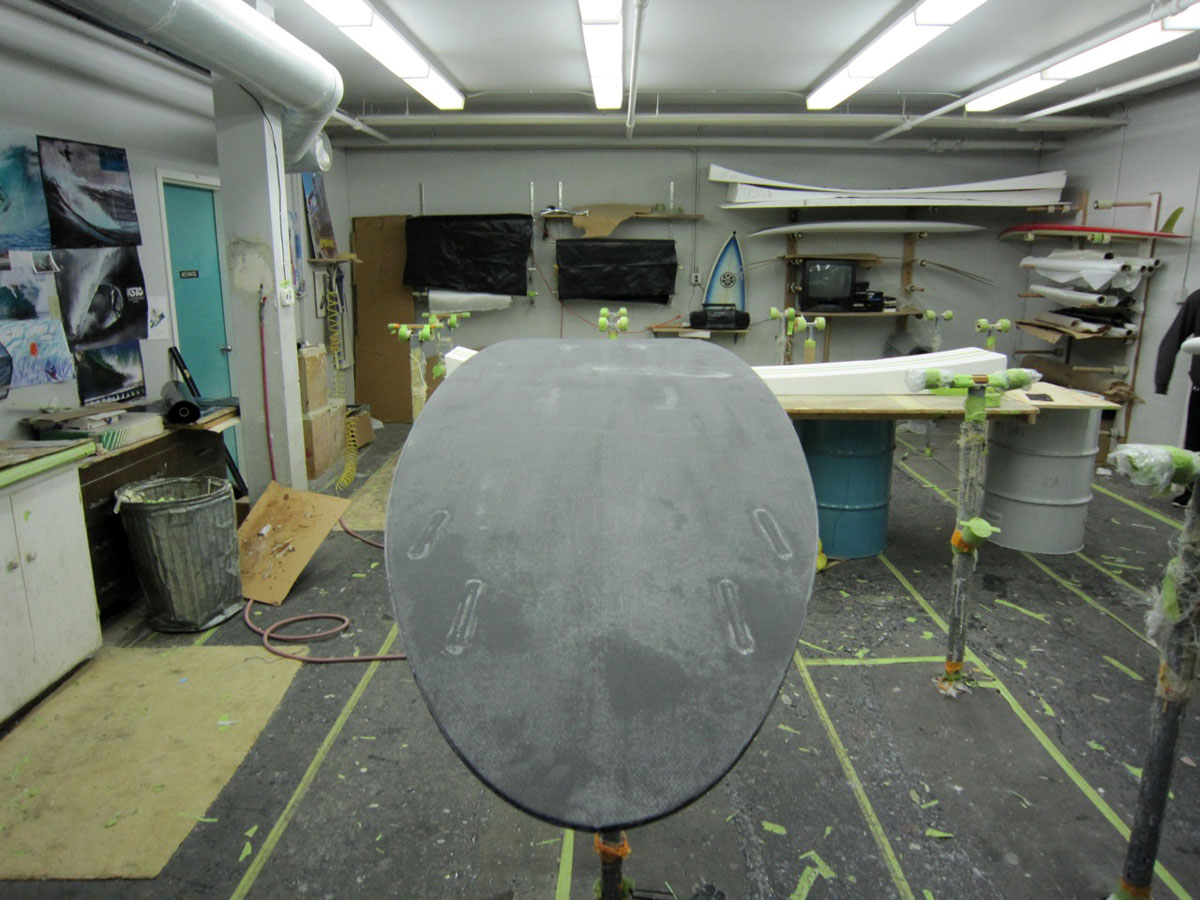 Sheryl's Stoke shaped up and ready for glassing…
Ann's new 9′ x 34″ Wide Ass Stoke…
Ready for final sanding and pinline paint detail work…
Deb's new carbon 6 channel 11'1″ "One World" taking shape…
Humboldt Hugh's carbon 10'3″ Mahalo all dressed up and ready to rock&roll…
Hugh is REALLY stoked with it…he's already had a couple of sessions on it with these large swells this week…said it's the first standup paddle surfing board that felt "normal" right off the get go…totally dialed…no having to get used to it…no tweaking fins or anything…good to go from wave #1…
That's about the best compliment one can give…I passed it on to our shaper Art Colyer…
"Awesome!! tell Hugh I thought his board was spot on myself – every line was on target as it came through shaping steps. I was feelin' it on that one. I'm stoked he's stoked! – AC"
Here's Paul going off the lip with his new 9'6″ carbon Stoke…
Here's Trent's new 9'6″ carbon Stoke…looking sharp with red trim…
Speaking of stoked…I've had some AMAZING sessions lately on my new deep 6 channel 9'4″ Groove…
8 sessions in on it now…the last couple in some killer down the line point break surf…overhead to overhead +…with a few over DOH mackers that I got it up to Mach 3…definitely a couple of career waves lately…
It's fast…very fast…quite noticeable…speed really loosens up standup boards…if you can get your board up to speed quickly by climbing and dropping, you can make so many more sections and pull off maneuvers with less effort…with the added grip from the channels I'm able to turn at the top of large waves similar to a tow-in board…I can also drift back behind the peak with confidence that the "turbo" speed gear will kick in and get me back into the green water on the wave face…there really is a 6th gear on this board…
In fact, I blew past several shortboard drop ins yesterday, passing them up like they were standing still…ridiculous speed…the deep channels in conjunction with the lightweight carbon layup helps the board accelerate in a shorter distance…
We totally nailed the volume distribution…I was a little nervous that the deep channels would shave too much volume out of the tail…making it a tail-dragger…but, it feels well balanced…and, tail pivots almost as easy as the Jammer…
What a fun board!
Brad putting his 8'6″ Jammer into a nice glassy one in one of our testing grounds…
Stay tuned for more handcrafted custom carbon SUP's in production…Ted's got a 9'2″ x 29.5″ Stoke coming down the pipe…and, Richard from East Africa will be getting a 9'6″ Stoke Wide…
Stoke knows no borders…One World…peace out…Mahalo…