You prolly already know about the great fanny pack worn PFD's (Personal Flotation Devices) that we stock from Hobie…
Now, we'd like to introduce you to a flotation device for man's best friend…the Doggy Flotation Device (D-FD)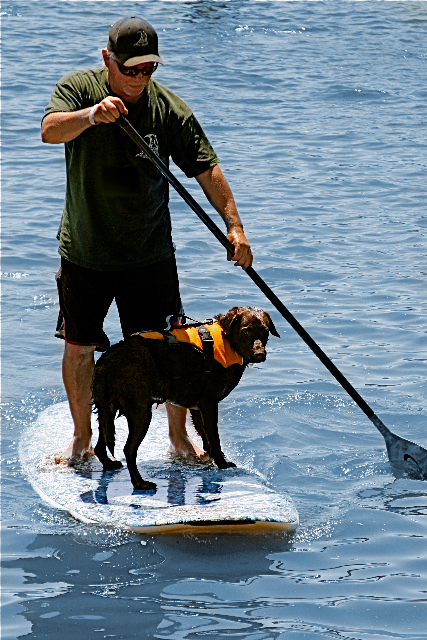 The D-fa Dogs D-FD (Doggy Flotation Device) was inspired by friends who lost their beloved dog when kayaking on a New Zealand river and has been designed by Clare Cosson and Dave Ritchie, both of whom have a long history in paddling and the design of flotation gear (formerly designed for Macpac and owned Hydraulics).
— New Zealand Image Courtesy of Adam Kirkcaldie
What makes the D-FD better?
The D-FD is the canine equivalent of a PFD used by humans in sports such as paddling and kayaking. Created by experts in buoyancy and design, the D-FD is the first dog floatation jacket to use variable density, articulated foam and a harness style construction. This combination of flexibility and security allows for a more ergonomic fit, better balance of flotation with a focus on keeping the the heavier chest and head supported, and greater comfort and security when lifting the dog from the water. In particular the jacket is designed to cradle the dog within the floatation harness rather than wrap and hang them in foam and webbing. D-fa has a patent pending on this construction and design.
But my dog is a great swimmer…
Dogs can be excellent swimmers, but often we overlook the fact that just like us they can struggle if required to swim more than a few hundred meters, in moving or cold water, or if they are disorientated, panicked or compromised by age or fitness. A dog's natural swimming mode is to 'sprint' and then rest by returning to shore. A dog that can fetch from the water all day is sprinting and resting rather than swimming continuously. Because dogs cannot rest in the water, giving them some additional flotation can help them to swim more comfortably and confidently for longer. The harness style and the easy to reach lifting handle of the D-FD also makes it easier to steady, support and retrieve a dog from the water.
You'll Dig:
o Variable density, articulated foam places flotation where it's needed
o Segmented panels give an ergonomic fit and free movement
o Chest yolk insulates and floats the chest area
o Harness style construction for safer and more comfortable lifting
o Cordura outer construction
o Double strapping for secure fit to a range of body shapes
o Seamless belly panel to reduce snag risk
o Full length lifting handle
o Reusable drying bag for transport and storage (and it means we don't leave you with any excess plastic packaging to dispose of)
Wear It: o For water-based recreation and rehabilitation
— New Zealand Image Courtesy of Adam Kirkcaldie
Available in 4 sizes for petite to grande size dogs (from 6lb to 120lb).
Retail Priced at US $79.95