Tonight's stroke of the clock at midnight will ring in not only a New Year…but, also a new decade…and, SurfingSports (this website) is turning 10 years old!
That's a looooong time in internet time…thousands and thousands of boards ago…it's like 70 dog years…
The wifey will prolly have "When Harry Met Sally" on the DVD for the umpteenth time…well, at least 20 times since it came out 20 years ago in 1989…;-)
"I mean, 'Should old acquaintance be forgot'? Does that mean that we should forget old acquaintances, or does it mean if we happened to forget them, we should remember them, which is not possible because we already forgot?"…Harry (Billy Crystal)
That was 20 years…2 decades ago…heck, it's not much easier to get your head around the last 10 years…close your eyes and think back for a moment to 1999…
Wardog and Deb…partying like it's 1999…;-)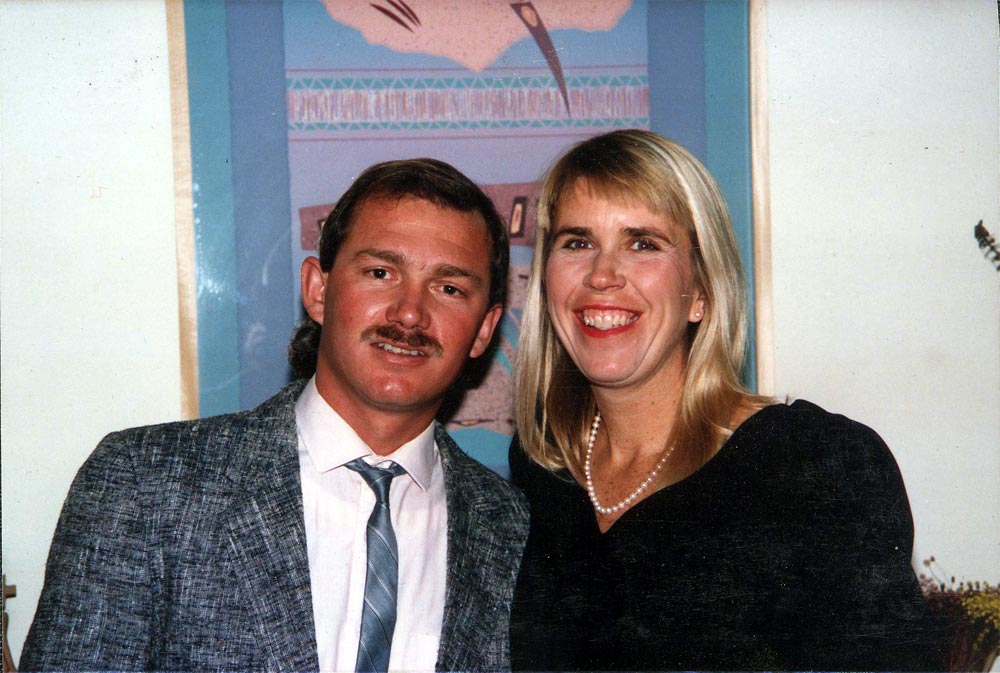 This trivia from Wikipedia might just jog a synapse in the gray matter between the ears…;-)
* Clinton still had over a year to go in office…
* Y2K scare…
* The Euro currency is introduced…
* The Roth IRA is introduced…
* Lance Armstrong wins his first Tour de France…
* Boris Yeltsin resigns as President of Russia
* For the first time, the Dow Jones Industrial Average closes above the 10000 mark…pretty much where it sits today…
* Columbine High School massacre…
* Napster, a revolutionary music downloading service, debuts…
* Apple Computer releases the first iBook…
* A plane piloted by John F. Kennedy Jr. crashes, killing him and his wife…
* Santana releases his best selling album Supernatural…
* Britney Spears releases her debut album…
* Eminem's The Slim Shady LP is released…
The dotcom bubble hadn't yet popped…and, the 9/11 disaster was still in the planning stages…
We survived all of that…but, it's interesting to L(©¿©)K back on the craziness of the times and how cycles repeat…VC angel money was being waved at us…but, we declined the temptation of short term gain…we saw ridiculous burn through rates of capital by companies run by (and for) idiots who were only living for the day, and themselves…totally ignoring fundamental business principles…stroking their own egos…clueless and egotistical…
Natural selection always seems to have a way of leveling the playing field…
They can't escape Warren Buffet's "Three I's" rule…there's a "natural progression" to how good new ideas go wrong…the Innovators, are followed by the Imitators, who are followed by the Idiots…whose greed and avarice are their undoing…the Idiots always get carried out of the game on stretchers…case in point…
"Super Bowl XXXIV in January 2000 featured seventeen dot-com companies that each paid over two million dollars for a thirty-second spot. By contrast, in January 2001, just three dot-coms bought advertising spots during Super Bowl XXXV. In a similar vein, CBS-backed iWon.com gave away ten million dollars to a lucky contestant on an April 15, 2000, half-hour prime time special that was broadcast on CBS."
Then REALITY hit…and, then it hit again in 2008 with the popping of the housing bubble…
Through it all…we stuck our noses to the grindstone…practiced the "Golden Rule" of treating others like we would want to be treated…incorporating integrity, honesty, and respect into our business practices…and, have made our mom and pop business a success the old fashioned way…the way of the plow horse, not the show horse…hard work…representing only the best value products…and, exceptional customer service…your word of mouth advertising (STOKE) has sustained our retail stoke factory for the last 10 years…and, has made 2009 our best year ever…MAHALO & THANK YOU!!!
From our ohana to yours…may you be blessed with peace and prosperity…health, wealth, and wisdom as our water planet spins around the sun again…hopefully, the goods that we have brought you have made you happier…it's a good "Catch 22″…no worries…the happier you are, the happier you are…we'll see you in the next decade…
HAPPY NEW YEAR!!!