BIG RED & BIG BLUE
The epoxy production versions of Big Red and Big Blue will be here soon…
More epoxy standup paddleboard pics:
BIG RED
11'11" X 29.5″
-A TRUE ONE DESIGN BOARD, ONE OF THE MOST VERSATILE ALL-AROUND BOARDS, YET!…
-BUILT IN LIGHT, TIGHT AND BRIGHT (LTD) EPOXY STYRO VACUUM SANDWICH TECHNOLOGY
* 12 YEARS IN RESEARCH & DEVELOPMENT…
– A NATURAL BLEND OF A SURFBOARD, WIND-SURFBOARD AND A CANOE. REPRESENTING TWO
YEARS OF PROTOTYPES AND 20 YEARS OF HAND SHAPING EXPERIENCE. -DESIGNED TO BE FAST AND SURFY…
-IDEAL FOR DISTANCE AND DOWNWIND COASTLINE EXPLORING. WHEN THIS BOARD HITS THE SURF LINE, ITS' CLEAN CURVES COME ALIVE FOR SMOOTH LOOSE GLIDE…
-IDEAL FOR ALL LEVEL OF STAND UP SURFERS…
-PARABOLIC ROCKER LINE, LIKE BIG WAVE GUNS MAKING IT HANDLE STEEP DROPS…
-PROGRESSIVE BOTTOM CONTOURS FOR PERFORMANCE RIDING OFF THE RAIL AND TAIL…
-ON THE WAVE, THIS BOARD IS DESIGNED TO TAKE A SINGLE FIN FAST GLIDING HIGH LINE…
-A GREAT CROSS OVER BOARD AS A TANDEM, FOR SHARING MANY MOMENTS WITH YOUR LOVED
ONES…
-WHEN GLASSY CONDITIONS CATCH A SMALL SEA BREEZE, WITH THE WIND TO YOUR BACK , THIS BOARD CONVERTS INTO A LIGHT WIND SAIL BOARD.
* ONE DESIGN ENTHUSIASTS WILL ENJOY…
********************************************************************
BIG BLUE
10'10" X 28.5″
-A SMALLER PERFORMANCE VERSION OF BIG RED, WITH GREAT STABILITY AND MORE LOOSENESS …
-BUILT IN LIGHT, TIGHT AND BRIGHT (LTD) EPOXY STYRO VACUUM SANDWICH TECHNOLOGY
* 12 YEARS IN RESEARCH & DEVELOPMENT…
-IDEAL FOR LIGHTER SURFERS OR PERFORMANCE SURFING ENTHUSIAST…
-A WIDER NOSE MAKES THIS BOARD A GREAT NOSE TRIMMING BOARD AND ITS WIDE SQUASH TAIL MAKES IT STABLE AND LOOSE THROUGH TURNS…
-SIMILAR LINES TO ITS BIGGER COUNTERPART, MAKE THIS BOARD A PROGRESSIVE EVOLUTION TOWARDS THE HISTORY OF THE SHORTER BOARD…
-A GREAT CROSS OVER SAIL BOARD FOR BEGINNERS…
-ALSO A GREAT TANDEM BOARD…

The first container is selling out fast…we have a waiting list for the first shipment of Sean Ordonez standup paddleboards due in late July…and have a few not spoken for, so get your orders in now…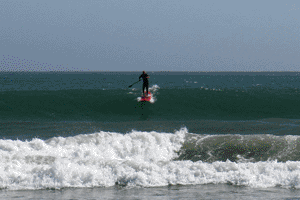 WARDOG dropping into a hollow macker on Big Red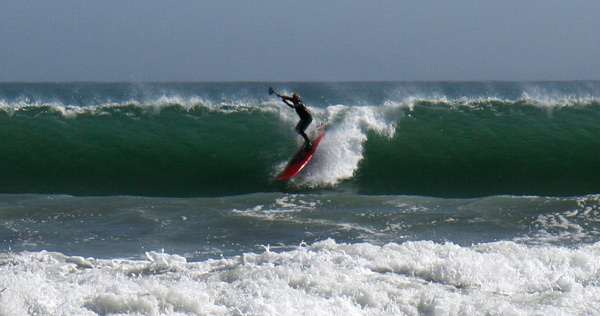 More Big Red standup paddle surfing pics:
http://surfingsports.com/Big_Red_Cali_Standup/index.html
http://www.surfingsports.com/sean_ordonez/index.html
Sean has been busy building some gorgeous bamboo standups…
This one is not quite finished, but you can see the craftmanship (love) that he is putting into them: